FS Energy and Power Fund have experienced lackluster performance since its founding in 2011. Vernon Litigation Group is investigating potential claims against the fund for its poor performance in the past decade.
FSEP's portfolio consists of various energy-focused debt and equity investments. According to the fund's website, its objective is to "generate current income and long-term capital appreciation." However, the fund has failed to achieve this objective.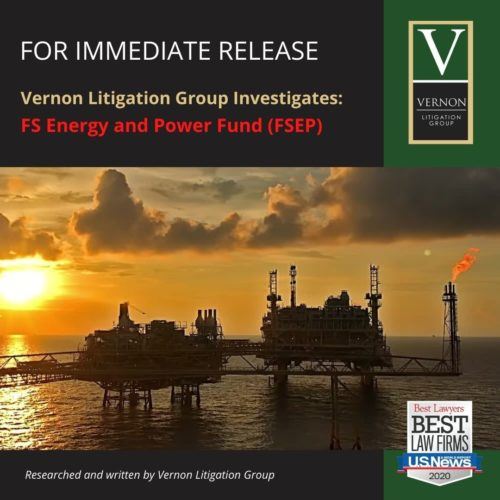 FSEP's Performance
The oil industry has seen its ups and downs over the past decade. Oil has ranged from a high of over $110 per barrel in 2011 to less than $12 per barrel in 2020. As a result, FSEP suffered since it opened in 2011: its cumulative total return is –23.80%, while one-year performance is –41.97% and year-to-date performance is –37.49%.
Problems with FSEP Debt Ratings
In March 2020, Moody's downgraded FSEP's debt ratings from Ba2 to Ba3 and placed its debt on "review for further downgrade." Additionally, Moody's changed FSEP's rating from "stable" to "rating under review."
After further review of FSEP this month, Moody's confirmed its Ba3 rating but still holds a negative view on the fund. A negative outlook is concerning, especially since the fund is not publicly traded.
The Risks of Alternative Investments
Alternative investments are generally known as high-risk products. Most alternative investment products are not appropriate for the average investor. However, investment professionals and financial advisors often sell them without taking their clients' needs into consideration.
High sales commissions incentivize brokers to push these investment products on their clients, even if they are not suited to invest in them. As a result, investors lose money on products that they failed to understand when their broker or advisor originally recommended and pushed the product.
We have seen dozens of similar cases come through our firm's doors over the past thirty years. Clients often get hurt when they trust financial advisors and brokers without investigating these professionals and their recommendations. As a result, clients are locked into investment products similar to FSEP. Advisors and brokers tell their clients that the investments will be successful, but fail to disclose necessary information about them. This often results in bad investments that are extremely difficult to sell without incurring significant losses.
Investigation
Vernon Litigation Group has investigated and pursued various claims against similar alternative investments for decades. If you suffered losses in the FS Energy and Power Fund, we may be able to help. Please contact us for a confidential, no-cost consultation to determine your rights regarding FS Energy and Power Fund.
Vernon Litigation Group represents businesses and individuals with financial disputes throughout the United States, including securities litigation and arbitration, cyber litigation, business, and commercial litigation, insurance litigation, financial advisors and employment disputes, and FINRA arbitration.