BIO

COURT ADMISSIONS

PROFESSIONAL EXPERIENCE

EDUCATION

ACTIVITIES AND AWARDS

ORGANIZATIONS AND ACTIVITIES

PUBLICATIONS AND APPEARANCES

NOTEWORTHY CASES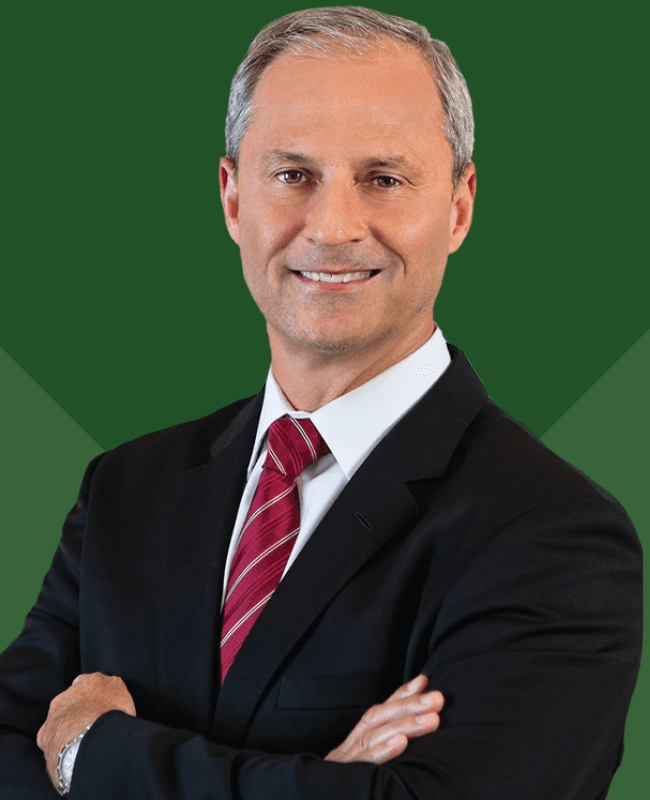 Chris Vernon Expert Witness
For 34 years, Mr. Vernon has handled the litigation and arbitration of complex business and financial disputes, with an emphasis on securities fraud and securities arbitration, throughout the United States. He currently holds an AV rating by Martindale-Hubbell, has been repeatedly recognized by Florida Super Lawyers, and The Best Lawyers in America. Mr. Vernon has also been recognized by and is a member of the National Trial Lawyers as one of the Top 100 trial lawyers. Click here to learn more about Chris.
Testimony and Litigation support in Federal Court, State Court, Arbitration, and Mediation
Trust, Fiduciary, Best Interest, Suitability, and standards of care
Prudent Investor, allocation, concentration, and diversification
Product and strategy risk analysis
Investment Professional competence and ethics
Liability of Gatekeepers
Conflicts of Interest and commission junkies
Alternative Investments
Misrepresentations and Omissions
Scams and Ponzi schemes
Registration and Licensing issues
Variable and Equity Index Annuities
State and Federal Securities Violations
United States Supreme Court
United States Court of Appeals, Eleventh Circuit
U. S. District Court for the Middle District of Florida
Private practice in Naples and Orlando, Florida
Prosecution intern, Hillsborough County State Attorney's Office
Law: J.D., Stetson University College of Law
Undergraduate: B.S., cum laude, Finance, Florida State University
Member, Society of Trust and Estate practitioners (STEP)
Twentieth Judicial Circuit Nominating Commission (Gubernatorial Appointment)
Thomas S. Biggs American Inns of Court (President)
Collier County Bar Trial Lawyers Section (Board of Directors)
Continuing Education for board certified trust and estate and business litigation lawyers
throughout the state of Florida (Instructor)
Continuing Education for CPAs, CFPs, and CFAs throughout Florida (Instructor)
American Association for Justice (Speaker)
Unlicensed Practice of Law Standing Committee for the Florida Bar (Vice Chair)
Stetson College of Law Alumni Association (Executive Council and Board of Directors)
Stetson College of Law: Scholarship recipient; Outstanding Alumni Award
Stetson Law Review
Advanced Arbitrator Training for FINRA (Instructor)
Mr. Vernon is or has been qualified as an arbitrator for American Arbitration Association (AAA),
Florida SouthWestern State College District Board of Trustees (Chairman of the Board) (Gubernatorial Appointment)

Florida SouthWestern State College Financing Corporation (Board of Directors)

Florida SouthWestern State College Foundation (Board of Directors and Finance Committee)

Champions for Learning Advisory Council

Education Foundation of Collier County (Member, Board Emeritus Council; Endowment Committee;

Chairman of the Board)

Collier County ID Theft Task Force

Leadership Collier Foundation (Vice Chair Alliances, Board of Directors)

The Partnership for Collier's Future Economy (Board of Directors)

United Arts Council of Collier County (Board of Directors)

Innovation Group, Collier County Sheriff and Collier County Clerk of Courts (Advisory Board)
Mr. Vernon has made numerous television, radio, and speaking appearances regarding financial issues and has been quoted in national, state, and local publications. He has also authored articles on financial issues in the law. His speaking appearances include the national conventions of the American Association for Justice (AAJ) and the Public Investors Arbitration Bar Association (PIABA), as well as continuing education for CPAs, CFAs, trust and estate attorneys, and business litigators both in the United States and in the Cayman Islands. Mr. Vernon has also provided training for the Florida Office of Financial Regulation. In addition, Mr. Vernon has been retained and has testified as an expert on investment issues.
A precedent-setting favorable ruling for our client before the Florida Supreme Court which helped lower a legal hurdle for investors who want to pursue their claims in court versus the mandatory arbitration system required by most brokerage firms.
Arbitration claims nationwide relating to the marketing, recommendation and sale of structured notes to UBS customers. The structured note investors we represented had a total of more than $13 million of claims against UBS.
A case in which a multi-million dollar arbitration award was secured against one of the world's largest financial institutions on behalf of a Florida retiree. Press coverage recognized the award as one of the top 20 largest awards in the history of securities arbitration in Florida. Later, the failure of the industry to note the award on the offending broker's public report card, or CRD, was cited by the press as a glaring loophole in the regulatory disclosure system that's supposed to alert investors to<
Client Testimonials
Real People. Real Results.
- Ginger K.

- JA, Attorney and President of international medical device company.

- SS, Private Practice Ph.D.

- J.B. and T.B., Identity theft victims