The Long-Awaited Continuation of Recent Stimulus Bills Has Arrived.
Treasury Secretary Steven Mnuchin stated on July 26 that a $1 trillion bill has been finalized by Republicans in an effort to continue coronavirus relief. Details are emerging from Washington D.C., but initial reports among media outlets regarding the specifics of the new legislation are inconsistent.
That being said, how should we expect this to affect Southwest Florida in the short-term? On CNN's "State of the Union," on July 26, White House economic advisor Larry Kudlow provided more insight into the bill. "There's a $1,200 check coming, that's going to be part of the new package," he said.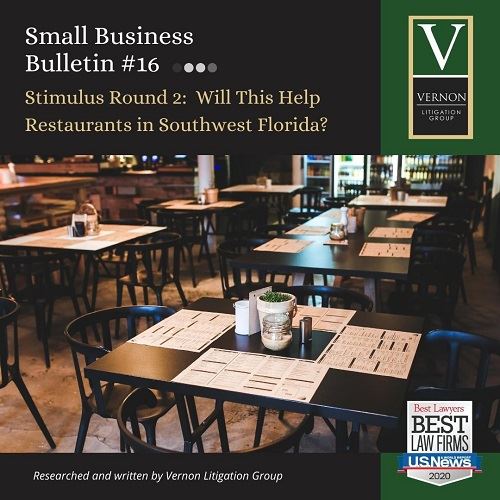 For the thousands of eating establishments in Southwest Florida, this would hopefully give local restaurateurs a much-needed break. According to the National Restaurant Association, there are more than one million restaurant locations with 15.6 million total employees in the United States. The industry certainly has a major impact on the country, which is likely the reason that Kudlow included restaurants in the conversation for potential tax breaks and credits. Restaurants here in Southwest Florida have struggled tremendously in the past few months, as many have closed their doors permanently. However, relief may be evident soon. Although nothing is official as of yet, there is certainly hope that Southwest Florida restaurants will benefit from new legislation.
If you have any questions or require further assistance to help you navigate through these difficult times, please feel free to give us a call. We are more than happy to serve you.
Vernon Litigation Group, securities lawyers in Naples, represents businesses & individuals throughout the United States who have financial disputes, including cyber litigation, securities litigation & arbitration, business & commercial litigation, financial advisors & employment disputes, and FINRA arbitration.
For more information, contact us at info@vernonlitigation.com or call (239) 319-4434