Southwest Florida's economy has steadily improved throughout the summer after shutdowns, and record-high unemployment took a toll on our community. Although the future is uncertain, we see visible signs of hope in our local economy.
The unemployment rate in Southwest Florida fell drastically since the height of job losses just a few months ago. After a strong period of record-low unemployment in 2019 and early 2020, unemployment hit a high of 15.5% in April. However, unemployment was cut nearly in half, to 8.8% in June, marking a trend that will hopefully continue in the right direction. This rate is noticeably lower than the overall unemployment rate in Florida (10.3% in June) and in the United States (11.1% in June).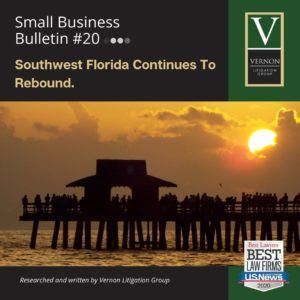 Although 8.8% unemployment is nothing to celebrate, it indicates that there has been a rebound in progress. While the effects of local shutdowns continue to impact many local businesses, consumers continue to spend their money.
Taxable sales in Southwest Florida totaled $2.23 billion in May, an increase of 46% from the previous month. While this total is down 9% versus last year, this is still strong considering the magnitude of shutdowns and unemployment.
Tourism seems to be trending positively, as well. Although airport activity is down 37% year-to-date compared to 2019, we saw a month-to-month increase of 56% from May to June. Additionally, tourist tax revenue was down 65% compared to May 2019, but we saw an increase of 151% from April to May of this year. These numbers indicate that people are returning to our community, and we hope that this continues in the right direction.
Real estate is another important factor that shows signs of optimism in our community. In Collier, Lee, and Charlotte counties, single-family home sales slightly increased from 2,168 in June 2019 to 2,210 in June 2020. Although May sales dropped to 1,590, we saw a strong rebound in June. Median sale prices and building permits also increased from last year, as well.
Overall, our community seems positioned to rebound and continue its unprecedented growth. As restaurants, retailers, tourist spots, and other businesses reopen full-time operations, the local economy must continue to add jobs throughout our region. We will continue to provide you with important insights that directly impact our community as we navigate our way through the economic challenges ahead.
Sources:
Florida Gulf Coast University, Southwest Florida Regional Economic Indicators
https://www.fgcu.edu/cob/reri/rei/indicators_current.pdf
Florida Department of Economic Opportunity, Seasonally Adjusted Unemployment Rates
http://lmsresources.labormarketinfo.com/charts/unemployment_rate_data.asp