KEEP DEUTSCHE BANK OUT OF YOUR PORTFOLIO UNLESS YOU ARE SPECULATING THAT IT'S FORTUNES WILL DRAMATICALLY IMPROVE
At Vernon Litigation Group, we have been warning investors about any type of investment that is dependent on Deutsche Bank through blog posts, videos, and social media.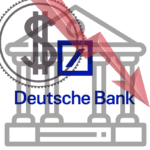 The latest development is that Deutsche Bank is now considering cutting a fifth of employees in an effort to save money according to a recent Bloomberg article.  This would represent a troubling loss of almost 20,000 jobs, many of which will likely be jobs here in the United States.
According to the Bloomberg article,  "Deutsche Bank is also planning to set up a unit for assets such as long-dated interest rate derivatives it wants to wind down or sell in an effort to cut unprofitable business and free up capital for other business lines" and that this could involve as much as $57 billion in assets.  To the extent this results in dumping assets to shore up the health of the company, rather than strategically selling assets for financial benefit, is also troubling.
While getting rid of assets and getting rid of employees may be necessary for the survival of Deutsche Bank, it is not the actions of a company that a retail investor should be loaning money to (structured notes, bonds, or other debt-related instruments) or investing in directly or indirectly.
Vernon Litigation Group has raised repeatedly raised concerns for investors, especially structured note investors, in Deutsche Bank for the past several years:
Deutsche Bank, Penny Stock Territory?
Structured Notes Issued by Deutsche Bank are Actually Unsecured Loans to a Troubled Foreign Institution
Ongoing Concerns For Investors In Structured Products Backed By Deutsche Bank
Why We Believe You Should Not Buy Deutsche Bank Structured Notes
ABOUT VERNON LITIGATION GROUP
Vernon Litigation Group has recovered tens of millions of dollars on behalf of investors throughout the united states and its investigations and advocacy on behalf of investors has been featured in national publications.  Vernon Litigation is a team of financial litigators in Naples and Atlanta that represent clients in courtroom litigation, arbitration, and negotiations throughout the United States. Our lawyers represent investors in federal court, state court, mediation, and arbitration (including FINRA, JAMS, and AAA arbitration).
For more information, visit our website at vernonlitigation.com or contact Vernon Litigation Group by phone at (239) 319-4434 or contact Brooke Sandoval-Banker at bsandovalbanker@vernonlitigation.com.