Alternative investment platform YieldStreet was recently sued by investors for alleged losses in private offerings related to marine finance and shipbreaking.
WHAT IS YIELDSTREET?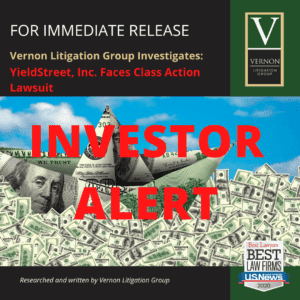 YieldStreet, Inc. is an online platform that offers alternative investment products to both accredited and non-accredited investors. Types of alternative investments that YieldStreet offers include real estate, art collections, marine finance, legal settlements, and more. The advantage to investors is short-term, high-yield products with little correlation to the stock market.
High-yield investments in a short amount of time sounds great for investors. Nevertheless, these high-yield products also have high risk that most investors are not equipped to handle.
The Issue with Alternative Investments
Alternative investments often carry great risk due to the nature of the investment. The term "alternative investment" generally refers to non-traditional assets (i.e. publicly traded stocks, bonds, cash, etc.).
These non-traditional assets are problematic for many investors because they are illiquid. While traditional assets like stocks and bonds can be sold fairly quickly on public markets, alternative investments often cannot. If an investor is adamant about selling the investment, the only option will likely lead to a sale at a deep discount.
Based on the inherent risk involved in alternative investments, companies like YieldStreet often require their clientele to be "accredited investors." Accredited investors must meet certain net worth and/or income requirements in order to be considered "accredited."
According to Investopedia, an accredited investor "must have an annual income exceeding $200,000 ($300,000 for joint income) for the last two years" and expect "the same or a higher income in the current year." Alternatively, a person can be an accredited investor with a net worth of $1 million or more.
YieldStreet Class Action Suit
Several investors filed a class-action lawsuit against YieldStreet in relation to the company's shipbreaking investments. Shipbreaking is the process of disassembling an old ship and reselling its parts for reuse or scrap value.
YieldStreet reportedly loaned money to Dubai Trading Agency (DTA), a shipping broker with decades of shipbreaking experience. New York-based asset management firm Four Wood Capital Partners originated the deal between YieldStreet and DTA. The deal was allegedly worth almost $90 million.
Investors claim that they received interest payments, but not the principal payment. YieldStreet, in turn, eventually informed investors that they suspected fraud on behalf of Four Wood Capital Partners, Dubai Trading Agency, and other parties involved.
YieldStreet claims that the Lakhani family, which owns and operates Dubai Trading Agency, "[has] defrauded not only YieldStreet but also at least five other leading PE firms and financial institutions." YieldStreet recently stated that it has filed several lawsuits in the United States and the United Kingdom. The controversy has to do with several ships that are involved in the deal, which have allegedly disappeared.
While YieldStreet claims that it is not at fault, investors allege that they "lost more than $100 million" from investing with YieldStreet. According to a Wall Street Journal report, the FBI and SEC are reportedly investigating these ship breaking deals. If you or someone you know suffered damage to their portfolio due to YieldStreet, please contact our securities attorneys in Naples today.