Twenty inches of rain in less than two weeks? Yes, it happened here. Some parts of our community such as Sanibel have seen this much rain this month alone.
Nearly all of Southwest Florida has seen higher-than-normal rainfall this month. Tropical Storm Sandy brought several inches of unexpected rain throughout our community. This past weekend, Collier County received more than 6 inches of rain, while Lee County received as many as 4 inches. Since the beginning of the month, some Southwest Florida communities have seen double-digit rainfall numbers. This certainly increases flood risk, and some real estate professionals claim that FEMA  underestimates flood risks throughout Florida.
As more storms continue to potentially threaten our community, it is crucial that we stay diligent and prepare ourselves for damage. While we certainly hope that our community doesn't experience any property damage, there is always a chance that it may occur.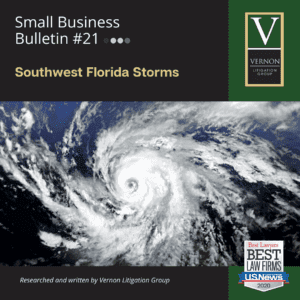 Here are four steps for you to ensure that you are fully able to deal with any property damage from these threats.
Check FEMA Flood Zone Maps: If you are a homeowner, you may have already bought flood insurance when you purchased your home. Nonetheless, it is always good practice to verify your coverage in case unexpected flooding occurs. You can check FEMA Flood Zone Maps for your county here.
Safeguard important documents: Keep all relevant and important documents safe and accessible. These documents include insurance policies, homeowner documents, and other related paperwork you may need if property damage occurs. Photos of your home before the hurricane are also important in your claim.
Document everything: If you experience property damage from a storm, documenting everything as soon as possible can save you time and money when making a claim with your insurance company. Take clear, detailed pictures as soon as it is safe to do so. Include the date and time in your photos to further support your claim.
Take immediate action: If you choose to file a claim, call your insurance company as soon as possible to schedule a time for an adjuster to inspect your property. Be prepared to show the adjuster all damage to the property.
If you experience any problems with contractors, roofers, or insurance companies after a storm, we are more than happy to help you. Vernon Litigation Group represents businesses and individuals with financial disputes throughout the United States, including commercial and homeowner insurance claims, business interruption claims, and financial disputes arising from hurricanes, storms, and other natural disasters.