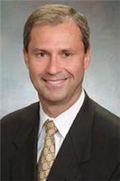 CHRISTOPHER T. VERNON, ESQ.
e-mail: cvernon@vernonhealy.com
For more than 20 years, Christopher Vernon has advocated for the rights of investors throughout the United States—both in and out of the courtroom and arbitration hearing room. He has recovered millions for individual investors and groups of investors with significant losses, including punitive damages, attorney's fees, and amounts in substantial excess of client losses.
Mr. Vernon currently holds an AV rating by Martindale-Hubbell, which is the highest peer review rating available to an attorney. He has also received recognition from his peers for his accomplishments in securities law and high-stakes litigation.  Mr. Vernon is admitted to practice in numerous courts, including the U.S. Supreme Court.
He and his firm focus on the litigation and arbitration of complex business and financial disputes with an emphasis on securities fraud. Mr. Vernon's firm has investigated a myriad of financial products and practices, including structured products such as principal-protected notes and reverse convertibles, non-traded REITs,  Preferred stock, TICs, private equity investments, tax shelters, hedge funds, Ponzi schemes, ETFs (exchange-traded funds), real estate investments, insurance, retirement assets (including 401(k) and pensions), bonds, variable and equity-indexed annuities, mutual funds, mortgage-backed (MBS) and asset-backed (ABS) securities, derivatives, and other financial products and practices. His firm's investigations sometimes lead to assisting individual financial professionals who are aligned with investors and at odds with brokerage firms, banks, and trust companies, especially those individual professionals who attempt to assist their clients in recovering losses due to defective products manufactured by Wall Street.
Mr. Vernon and his firm are currently assisting victims of wrongdoing that has been revealed by the credit crisis. For example, as part of his representation in FINRA arbitration of multiple investors who bought into a well known $13 billion dollar bond fund, Mr. Vernon was the first attorney to cross-examine the bond fund manager who oversaw the entire fund. The fund and the activities of the fund manager are currently under SEC investigation. Mr. Vernon has also filed numerous large claims in connection with Lehman structured notes and other products that are the subject of regulatory investigations. Additionally, Mr. Vernon and his firm are currently involved in both court litigation and FINRA arbitration involving real estate investments such as REITS and land trusts, including litigation relating to a $50 million real estate investment.
During his career, Mr. Vernon has sought to improve the arbitration system for the Financial Industry Regulatory Authority (FINRA) — formerly known as the National Association of Securities Dealers (NASD) —by providing advanced arbitrator training as well as acting as Chairman on securities arbitration panels.  Additionally, Mr. Vernon has spoken at both national securities and national trial attorney conventions regarding issues such as cross-examination and securities mediation.  He has also conducted continuing education in the U.S. and abroad for CPAs, CFAs, CFPs, investment professionals, board-certified business litigation lawyers, and board-certified trust and estate lawyers. Mr. Vernon has provided training for Florida's securities regulators within Florida's Office of Financial Regulation.
Mr. Vernon has made numerous television, radio, and speaking appearances regarding financial issues and has been quoted in national, state, and local publications and the international media. He is a consistent blogger and author of articles on issues affecting the rights of investors. Most notably, his comments and advocacy in interviews and publications about problems with the then-NASD helped lead to rule changes affecting what financial advisors must disclose about investor allegations of wrongdoing.
Throughout his career, Mr. Vernon has been an outspoken and high-profile advocate for the criminal prosecutions of financial and white-collar crime by state and federal law enforcement authorities. In media appearances, he has attacked wrongdoers, among them a hedge fund manager in advance of his arrest and incarceration for a $60 million fraud.
Other notable and high profile cases include:
A precedent-setting favorable ruling before the Florida Supreme Court in which Mr. Vernon helped clear a legal hurdle for investors who want to pursue their claims in court versus the mandatory arbitration system required by most brokerage firms. The Florida Supreme Court ruled in favor of Mr. Vernon's client. Wall Street's requirement that aggrieved investors pursue claims in mandatory arbitration versus court is now the subject of discussions by lawmakers to reform the securities industry.
A case in which Mr. Vernon secured a multi-million dollar arbitration award against one of the world's largest financial institutions on behalf of a Florida retiree. Press coverage recognized the award as one of the top 20 largest awards in the history of securities arbitration in Florida. Later, the failure of the industry to note the award on the offending broker's public report card or CRD, was cited by the press as a glaring loophole in the regulatory disclosure system that's supposed to alert investors to black marks in a broker's background.  FINRA has since closed that loophole.
His successful representation of investors swindled in the Maricopa hedge fund scheme in which investors around the country lost close to $60 million. The architect of the scheme, David Mobley, was later convicted of federal fraud and money laundering charges and sentenced to serve 17 years in federal prison.
Mr. Vernon majored in finance and graduated cum laude in 1984 from Florida State University in Tallahassee.  Thereafter, he received a scholarship to attend Stetson College of Law, which has been perennially ranked by US News and World Report as the top law school in the United States for trial advocacy.
Mr. Vernon is active in numerous legal, philanthropic, and educational organizations.  He currently serves as a member of the Board of Trustees for Edison State College, which is a gubernatorial appointment.
Mr. Vernon has been repeatedly recognized by his peers in The Best Lawyers in America publication in the categories of commercial litigation, securities law, and Bet-the-Company Litigation. He has also been consistently recognized in the Florida editions of the Super Lawyers publication.  
Contact Chris Vernon by phone at (239) 319-4434.