Even in a recession, consumers continue to whip out their credit cards.
According to this year's Adobe Analytics Holiday Forecast, consumers are expected to spend over $189 billion online this holiday season. This represents a 33% year-over-year increase versus 2019. If physical stores close over the next few weeks, along with the potential for Congress to approve another round of stimulus checks, online sales could easily surpass $200 billion.
NEW CUSTOMERS DRIVE GROWTH
Adobe's report indicates that plenty of consumers are quite new to online shopping. As a result, new customers are driving major growth in e-commerce. These new customers represent huge increases in online shopping during recent business shutdowns and shopping events this past weekend.
Adobe estimates that 31% of consumers "rarely shopped online" prior to April of this year, while 9% had never shopped online until recently.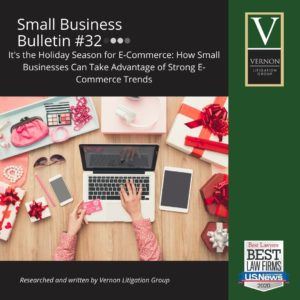 Not Just Safety, But Also Convenience
These are unprecedented numbers and figures for e-commerce. Online shoppers view e-commerce as an opportunity for safety this year. As this continues, it seems that shoppers will also view online shopping much more convenient than driving to physical stores. While it may not completely replace physical retail, e-commerce continues its strong upward trend.
Retailers have been taking note of these trends this year. Consequently, many retailers are increasing their offerings for curbside pick-up, and 'buy online, pick up in-store' options. Consumers are taking advantage of these flexible options, as these sales have increased by 40% year-over-year.
Adobe finds that 19% of consumers are choosing these pick-up options compared to just 4% in 2019. Additionally, shoppers are 9% more likely to buy from retailers that offer these options for safety and convenience.
E-Commerce for Small Businesses
E-commerce does not just belong to big retailers. While they are certainly the go-to players in this space, small businesses can take advantage of strong e-commerce trends this holiday season and for the foreseeable future.
Here are three ways for small businesses to take advantage of e-commerce trends this holiday season:
 Offer curbside and/or in-store pickup  –  As you read earlier, these options are increasingly important for customers that value safety and convenience. Small businesses can create and coordinate programs that allow customers to schedule pickups in advance. This is a technique that could potentially lead to more customers if it is done correctly.
 Optimize your website for online sales – Many small businesses depend on physical, in-store shopping. You may be able to further expand your business with a website that optimizes online sales. Allowing customers to shop online gives your small business a major advantage over others. Check your website hosting service and see if you can add an online store to your website. Some services that offer online stores include Shopify, Squarespace, Wix, GoDaddy, and other similar hosting sites.
Get the word out to your customers – Inform your customers that they have flexible ways of shopping for their favorite products online. Social media posts and email newsletters can help spread the word to your customers. Your customers will likely take advantage and enjoy the flexibility of shopping with small businesses online.
As always, please contact us if you have any questions at all about your business. We are more than happy to help you.